Ease of Use: 9.5 out of 10

Overall Review Score

out of 10

Platforms Supported: 9 out of 10
Features: 9.5 out of 10
Customer Support and Documentation: 8.9 out of 10
Pricing: Score: 9 out of 10
Two scanners are better than one. Part of what gives this product such a high grade, is its advanced detection power is its dual engine system.Comprised of Emsisoft's proprietary scanner as well as a Bitdefender scanner, a two-pronged approach to detection minimizes the chances of malware slipping past your system's defenses.
This powerful pairing of antivirus technology allows this product to keep ahead of the curve and makes Emsisoft Anti-Malware incredibly effective at combating all types of malware, including trojans, worms, keyloggers, ransomware and more.
Ease of Use: Score: 9.5 out of 10
This product is extremely easy to install and use. Once installed you should run an Update now and then do a Scan & Clean. After that, if the protection remains green with all of the four most important checks, Web Protection, File Guard, Behavior Blocker and Anti-Ransomware, the product should be fully functional.
The initial installer is a tiny 2.1 megabytes executable file, which is rapidly downloaded and deployed. Once an installation is complete, the Emsisoft folder under your Program Files area should be around 671 megabytes, with all options installed.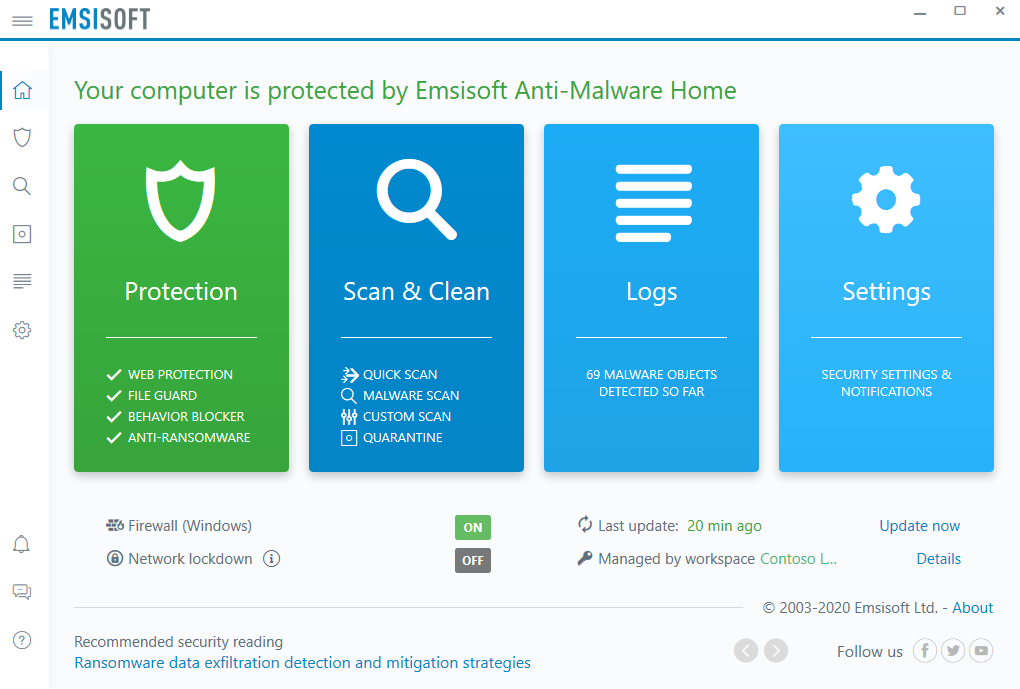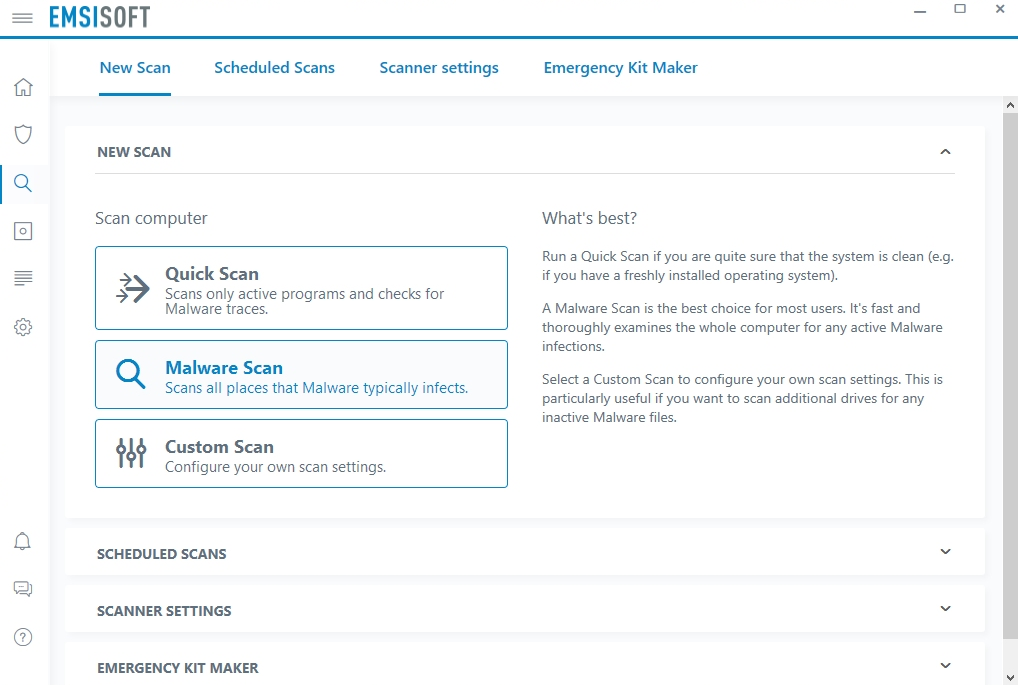 Surprisingly on a nearly full one terabyte hard drive, running Windows 10, the Malware Scan only took 3 minutes. The performance will most likely vary based on how fast your CPU is, how much memory you have and how big and fast is your hard drive. This was rather quick possibly because it was an SSD drive. Not only is it easy to use, it's streamlined and fast. The development team at Emsisoft made a very efficient product. In fact, one of their biggest claims is "No unnecessary features. No bloat. EmsisoftAnti-Malware Home is designed to do one thing only: protect your endpoints and servers with minimal performance impact." and we concur.
Cloud-based Console: Score: 8.9 out of 10
Emsisoft's Cloud Console is loaded with well thought out remote management and deployment features. However, it's more for a small to medium size business (SMB) information technology (IT) person than it is for the average consumer. You log into the My Emsisoft online cloud-based portal, which is where you registered your license. Then, once you pass the multi-factor authentication (they provide you an emailed security code each time), you can create your own workspace.
Once you have named your workspace, you'll go to each computer where you deployed EmsisoftAnti-Malware software and go under Settings, Remote Management and then Join Workspace. This will allow you to transfer your license to the named workspace and then connect that EmsisoftAnti-Malware deployment to that license. It's a bit confusing at first but once you get used to it, it will be easy for you to manage installing the software on a bunch of Windows computers throughout your home – from tablets to laptops to desktops, as long as they are running Windows, you can manage the Anti-Malware software all from one single 'pane of glass' ie the Cloud Console.

Platforms Supported: Score: 9 out of 10
While they don't support Macintosh, basically any PC that is able to run Windows 7, 8 or 10 is supported. All features are available on x86 and x64 systems. Make sure you always have the latest service packs and security updates installed. They have a separate product for Mobile Security that runs on Android devices only, not Apple iPhones.
Features: Score: 9.5 out of 10
This product is loaded with the most important features given today's threat climate – a fast dual-scanner engine to find and quarantine malware, web browsing protection, malicious behavioral blocking, real-time file protection and anti-ransomware technology. To top it off, they've added an Emergency Malware Kit to allow you to make a USB stick and cleanup other computers before installing the full package.
Protection beyond the standard computer virus:
Ransomware: Attackers enter your PC through unpatched software and encrypt all your files. Can you afford to pay a $1,000 ransom to get your data back?
Bots/Backdoors: They turn your PC into a remote controlled zombie. Your computing power is collectively sold on the black market to send spams, attack others or store illegal content.
Banking Trojans: Hackers use phishing techniques and keyloggers to get your most valuable passwords and empty your bank- or PayPal-accounts invisibly within seconds.
Potentially Unwanted Programs (PUPs):They are known to mess up your computer with useless browser toolbars, tons of commercials and other bulk software that slows down the PC.
Web Protection & Browser Security
If a user attempts to access a malicious website, Emsisoft Anti-Malware Home will immediately block the connection and prevent access.You'll need to install the browser add-on for your favorite browser. Emsisoft Browser Security is a light-weight browser extension, currently available for Chrome, Firefox and Edge, that not only blocks access to websites that distribute malware, but also prevents phishing attacks that try to steal your passwords.
This is how it works:
Every time you visit a new website, it sends a calculated hash value of the domain name to our servers once, and then receives a list of matching patterns that are applied locally on your computer. Those patterns are then kept for successive visits of pages on the same host/domain, which not only significantly speeds up the matching, but also ensures that Emsisoft and its employees will never know what you're doing on a particular website.
Note that most similar browser extensions send each visited website address to some cloud servers, allowing their vendors to track all your web browsing activities. Emsisoft states on their website that they value your privacy.
Real-time File Guard
This real-time protection layer checks all downloaded and modified files with the award-winning super-fast Emsisoft dual-engine scanner.Including machine learning (AI)-supported malware detection.
Behavior Blocker
To stop new and emerging threats, Emsisoft Anti-Malware Home continuously monitors the behavior of all active processes and immediately raises an alert if suspicious activity is detected.
Anti-Ransomware
Custom-built behavioral monitoring stops ransomware before it can encrypt any files.
Frequent, Automatic Updates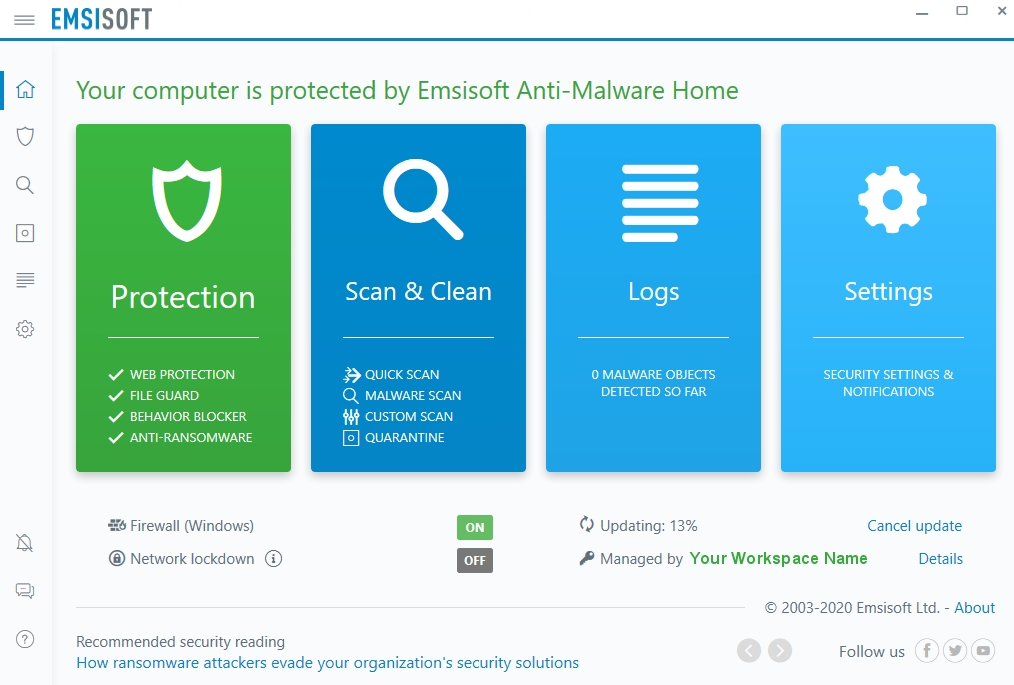 Emergency Kit Maker: Score: 9.7 out of 10
The Emsisoft Emergency Kit contains a collection of programs that can be used without software installation to scan for malware and clean infected computers. It won't run on a system that is running the full product. It's meant to help cleanup other systems before installing the full Emsisoft Anti-Malware. It's also not a boot level utility like some vendors offer, however it may come in handy. If it were boot level, to run before the operating system loads, we'd give it a 10.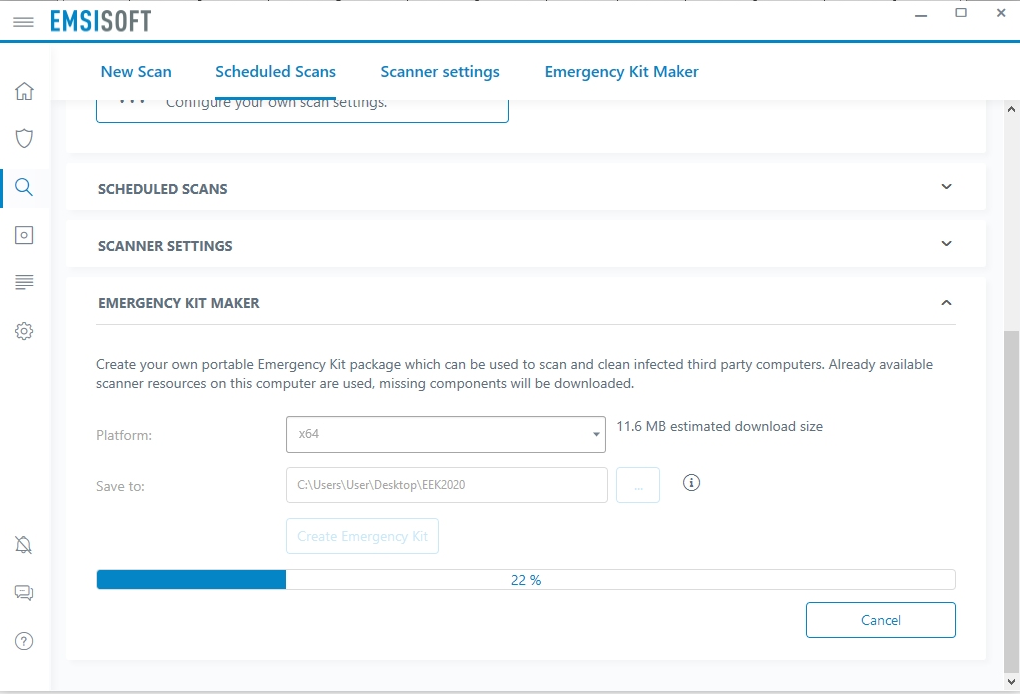 The Emsisoft Emergency Kit Scanner includes the powerful EmsisoftScanner complete with graphical user interface. Scan the infected PC for Viruses, Trojans, Spyware, Adware, Worms, Bots, Keyloggers, Ransomware and other malicious programs. It's recommended you install it on a clean USB stick then go to the computer that you think is infected and while running Windows, find the Start Emergency Kit Scanner.exe on the USB stick and let it run through completion. Detected Malware can be moved to quarantine or later deleted.
Customer Support and Documentation: Score: 8.9 out of 10
Emsisoft does not yet offer a telephone support line. Currently they are available by following this link: https://help.emsisoft.com/en/ with a lot of self-help features and documentation. They answer online chat at certain hours and they answer emails. They are very professional and serious about support however, we'd give them a 10 out of 10 if they offered standard telephone support and paid extended hours support.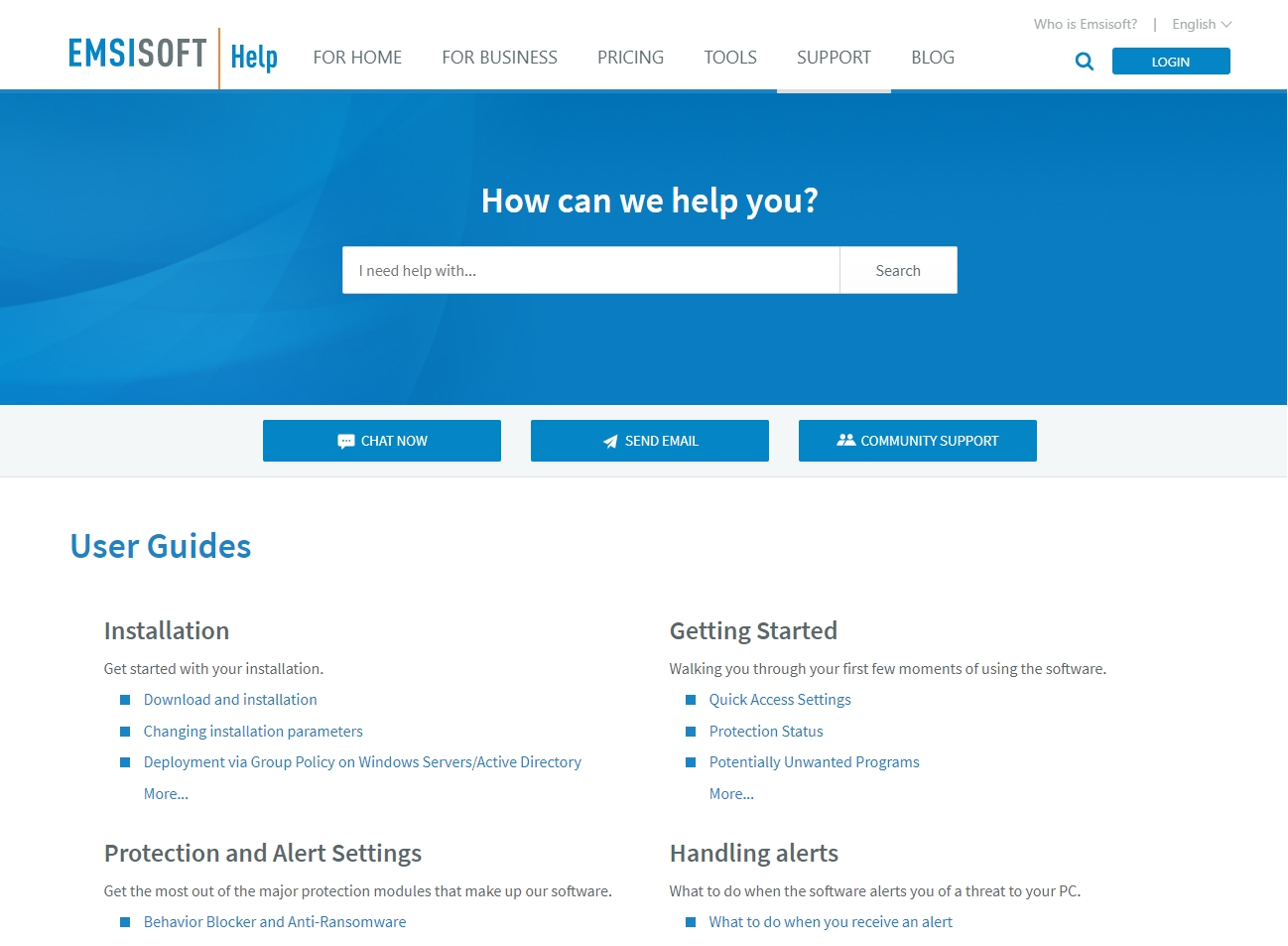 Pricing: Score: 9 out of 10
For 1 endpoint to 5, their Home software edition ranges from $29.99 to $69.99 USD. This is very consistent with market rates for other major brands of Antivirus software – and remember – you're getting two scanners in one product – the proprietary scanner developed by the Emsisoft team and the other one they integrated, developed by Bitdefender, also a market leader at anti-virus. We haven't seen coupon codes or discounts and if they reduced the price by $5-7 and offered frequent special discounts, we'd give them a 10 out of 10 on pricing.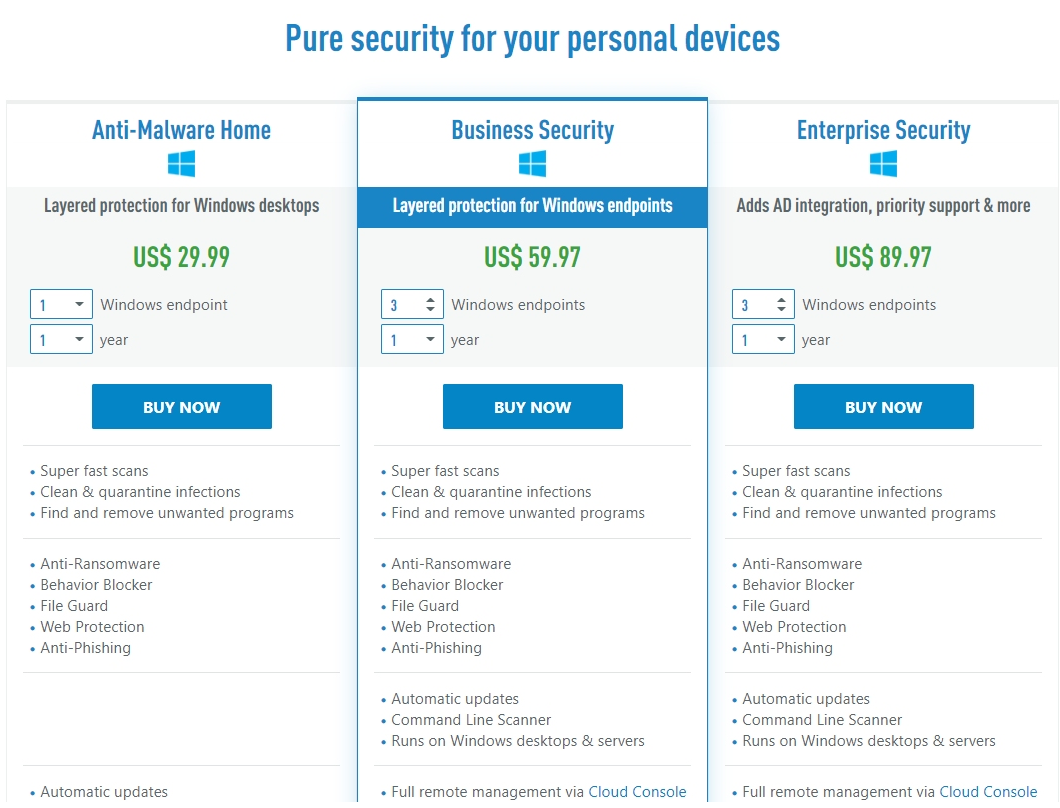 Final Thoughts
The Emsisoft Anti-Malware Home edition is well designed, easy to deploy and extremely cost-effective. It comes with some features you might not find in other antivirus products including dual scan engines, built-in real-time file and ransomware defenses, heuristics to detect malicious behavior and much more. If you have more than one computer, the Cloud Console that is freely available makes it even easier to manage up to 5 Windows devices from a single pane of glass. It's priced right and it's a solid product to have in your arsenal of home computer security defense.
Overall Review Score: 9.2 out of 10
Visit Emsisoft online, today: https://www.emsisoft.com/en/