Ease of Use: 9.9 out of 10

Overall Review Score

out of 10

Platforms Supported: 10 out of 10
Features: 9.9 out of 10
Customer Support and Documentation: 9.8 out of 10
Pricing: Score: 9.9 out of 10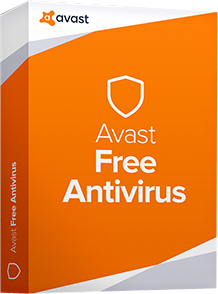 With over 435 million product users over the globe, Avast has over 30 years of experience meeting users' needs for security, privacy and performance. Avast has the largest threat-detection network, with machine-learning virus protection and home network scanners.
Avast uses 6 layers of defense to keep users safe: Web Shield, Static Scanner, Emulators, Deep Screen, Cyber Capture and Behavior Shield. This advanced technology comes to users completely free, providing high quality security protection at no cost.
The most remarkable aspect of Avast Free Antivirus is the flexibility and breadth of protections available to the user, providing a very customizable and peace-of-mind experience.
Avast Free Antivirus includes Core Shields (File Shield, Mail Shield, Behavior Shield, Web Shields, Cyber Capture and Botnet Protection), Ransomware Shield, Hack Alerts, Wi-Fi Inspector, Smart Scan, Do Not Disturb Mode, Rescue Disk, manual Software Updater and Anti-Phishing.
Readers should be aware that in addition to the Avast Free Antivirus for PC/Windows, Avast offers Mac and Android versions and several levels of upgrades for home and business users who require additional protections.
Platforms Supported: Score: 10 out of 10
Although this review concentrates on the FREE version for Windows, readers should be aware that in addition to the Avast Free Antivirus for PC/Windows, Avast offers Mac, Android, and Multi-Device versions.
Avast also offers several levels of upgrades for home and business users who require additional protections.
Ease of Use: Score: 9.9 out of 10
Downloaded directly from the Avast.com web site using MS Edge browser. The program is also available as a plug-in for other popular browsers, such as FireFox.
Using a mid-range laptop with a current Windows 10 Home operating system, the download and installation were quite speedy, and we experienced no issues.
NOTE: To download and install Avast Free Anti-virus on a Windows 10 computer, you must have the most recent updates.
The download process is very simple and user-friendly. A user just needs to click the "download" button if they choose a Free product, and if Premium, they can download after the purchase goes through. If a user already has a Free product, they can activate a Premium license within the existing program; no new download is required.
During the download process, the user is able to personalize settings during installation, but the default configuration just takes a few clicks to get through. Users are also prompted on a screen to ask if they want to download Avast Secure Browser during the Antivirus installation, but it is not required to use the product.
The user interface was designed to be intuitive and easy to navigate. The main window shows a status icon and a large button in the center of the window labeled "Run Smart Scan" The user interface labels the different sections on the left-rail menu, where the user can switch between the default main status page and between specific product features related to Protection, Privacy and Performance. The features have clear explanations, making it easy to understand what each feature does.
The user is immediately prompted to run "SmartScan," an initial scan. This comprehensive scan looks for malware, browser threats, outdated applications, network and other issues at the same time. It's difficult to say how long it will take on average, as it depends on the user's device and number of files that need to be scanned, but normally it should take no more than a couple of minutes. Default is set to run once a month. Avast also recommends that users run the Wi-Fi Inspector scan to do a deeper check on the network level.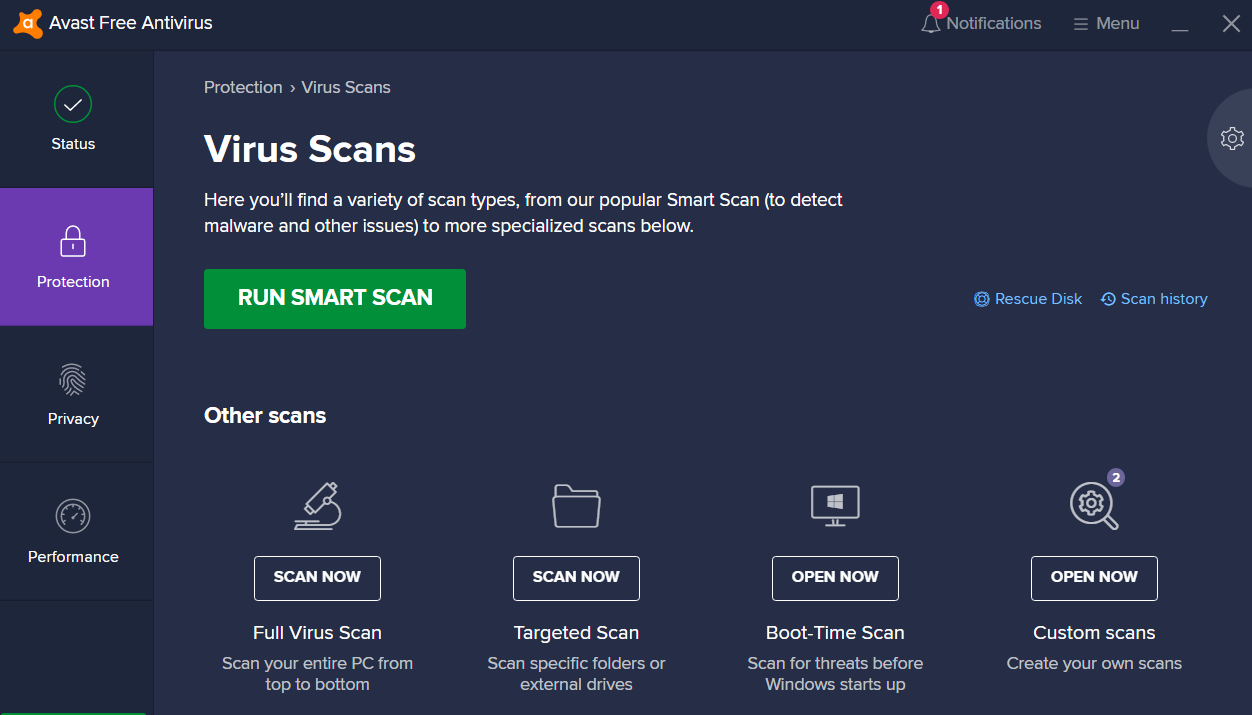 DASHBOARD 9.9 out of 10
Users will immediately see a top-tier dashboard with easy-to-navigate and launch program features. The first four features are Status, Protection, Privacy, and Performance
Status shows the general status of the Avast Anti-Virus program; the default setting is for "Passive Mode," which saves computer speed and capacity. At the user's option, you can toggle to "Active Mode" which provides for real-time scanning for viruses. The drop-down menu provides a broad information and option array, with a great deal of flexibility for users to select the features which best fit individual needs.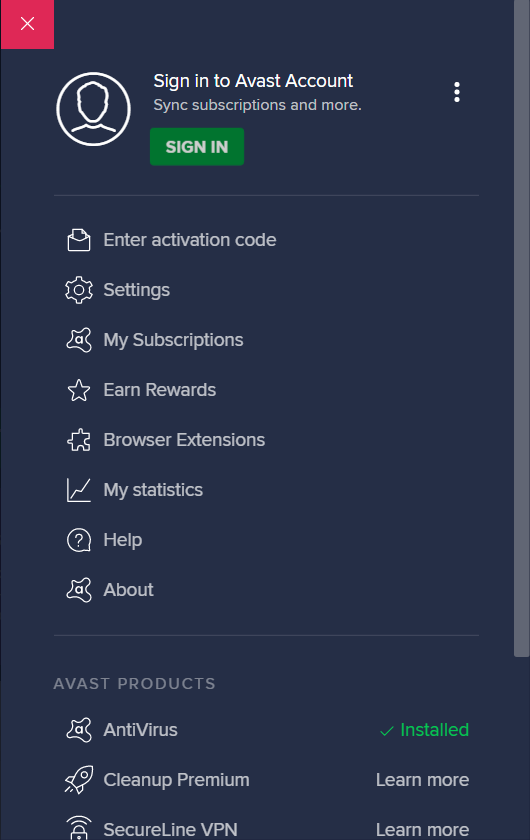 Protection carries 9 choices for scans and protections, of which 5 are standard and 4 optional with upgrades. This section is in many ways at the heart of the versatility of the Avast Free Anti-Virus program, since it gives the user such flexibility in choosing the combination of protections most appropriate and useful for the individual user.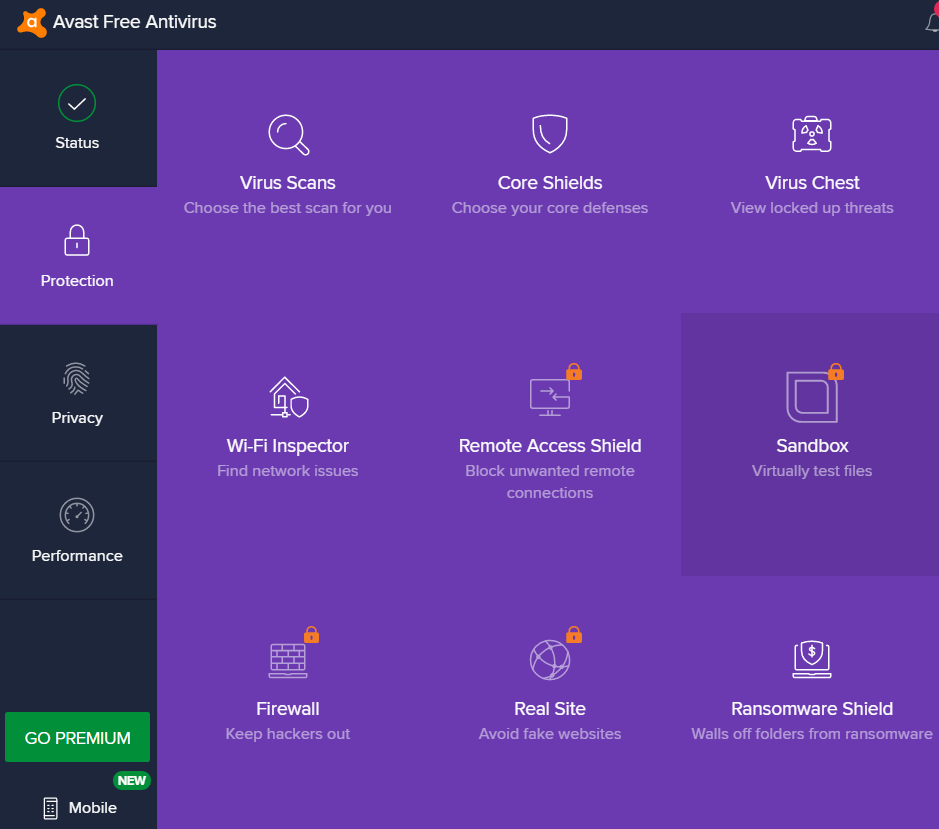 Privacy is the one area which is entirely configured for the optional upgrade. This reviewer's experience in teaching identity theft courses to many professionals reflects an apparent difference between stated privacy concerns and actions taken to protect it. This Avast upgrade option provides each user the opportunity to make an informed decision on whether to include specific privacy protections under the Avast program.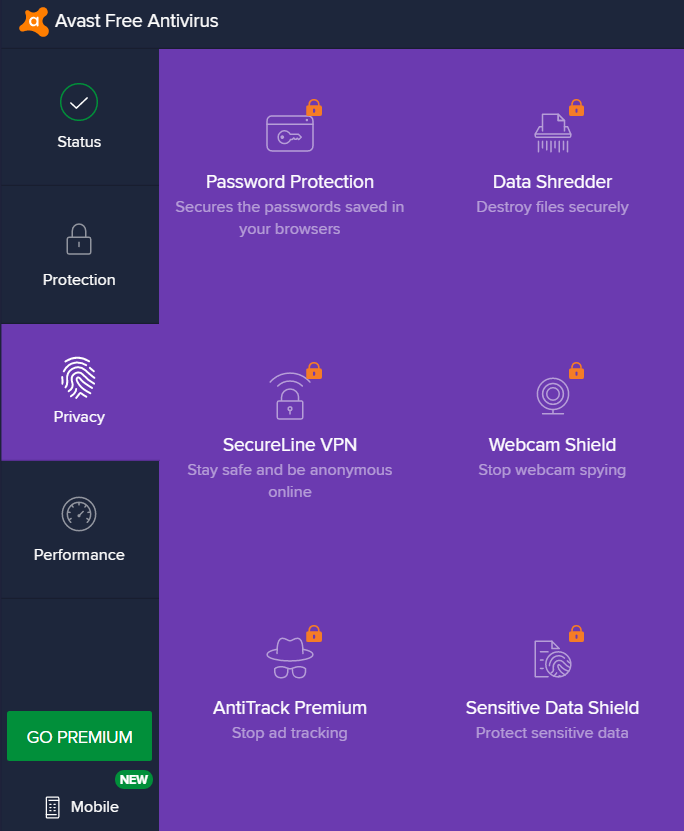 Performance tab similarly provides the user with 2 standard protections: Do Not Disturb mode and Software Updater, and the choice to upgrade to include 3 more: Cleanup Premium, Driver Updater, and Battery Saver.
Features: Score: 9.9 out of 10
Avast Free Antivirus includes many useful features. The collection of programs is highly versatile for customized use. Some may take getting used to, in order to apply those most relevant for individual user. Overall, the Avast system is user-friendly and immediately functional with little or no customization required.
Core Shields include several complementary protections.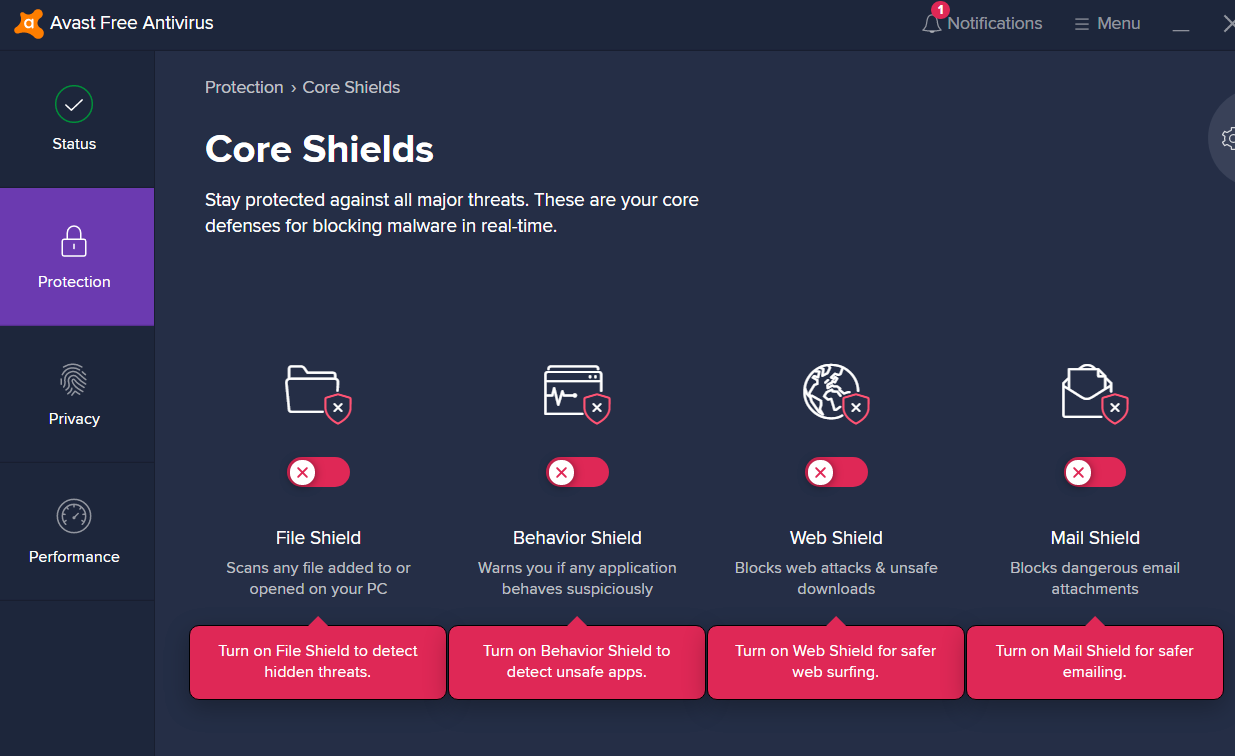 File Shield – Whenever you execute a file, File Shield immediately scans it. If the file is malicious, it's safely moved to the Virus Chest to prevent it from harming your PC (or spreading to other PCs).
Email Shield works with installed email clients like Outlook and Thunderbird to strip malicious attachments from messages before they're downloaded to — or sent from — your PC.
Behavior Shield uses advanced artificial intelligence to monitor all running apps in real-time for malicious behavior. If any is detected, Behavior Shield immediately stops the app and locks it away in the Virus Chest.
Web Shield blocks known malware from downloading to your PC while you browse the web.
Cyber Capture If you try to open a file that Avast doesn't recognize (and might be dangerous), CyberCapture will block it and upload it to our servers for deeper analysis. If it's malicious, Avast will push a cure out to you and hundreds of millions of users.
Wi-Fi Inspector automatically detects weaknesses in your home Wi-Fi and strangers piggybacking on your network.
Smart Scan finds all those cracks which allow malware to slip in, from unsafe settings and passwords to suspicious add-ons and out-of-date software.
Additional protections and convenience options are available in the free version:
Do Not Disturb Mode
Rescue Disk
Manual Software Updater
Anti-Phishing
New features introduced at the end of 2020 include Ransomware Shield and Hack Alerts
Ransomware Shield – Ransomware Shield goes a step further than the Avast Shields by giving users an additional layer of ransomware security. Ransomware Shield stops both ransomware and untrusted apps from changing, deleting, or encrypting personal photos and files in protected folders.
Hack Alerts – Monitors all accounts linked to a user's email address and immediately alerts users if their passwords leak online.
Passive Mode – (This is the default setting, but can be changed by the user.)
The user should be aware that several of the SCANS identify potential problems – but the resolution of some of these is available only with upgrades to premium versions of Avast.
For most users, the broad array of features provided in the free version is likely to cover all the needs they may consider necessary.
Customer Support and Documentation: Score: 9.8 out of 10
Free users are able to reach Avast through online forums, online help through support articles (https://support.avast.com/en-us), and Avast's social media channels.
Paid users are able to reach Avast through phone, email, chat and all of the options available for Free users as well. Avast Care comes with a subscription to our paid PC products which provides 24/7 phone support to troubleshoot and fix problems through remote access. This service is currently only available in English.
For other bigger issues, Avast users can access Avast's Premium Tech Support (https://www.avast.com/en-us/total-care) for a free phone consultation for any software, network or operating issues. The service is an additional fee.
Pricing: Score: 9.9 out of 10
Avast Antivirus available for free for all platforms.
Avast Premium Security for Windows and Mac starts at $69.99 for one license for one year or $89.99 for 10 devices for one year.
Avast Mobile Security for Android is $19.99 for one license for one year or $4.99 monthly.
Avast Mobile Security for iOS is $12.99 for one license for one year or $1.99 monthly.
A user is able to start a free trial for Avast Premium Security for 30 days without a credit card or a 60-day pre-authorized trial with a credit card.
Final Thoughts
The Avast Free Antivirus (Windows Version) is a powerful suite of anti-virus and related protections against cyber attacks. It is easy to download and install, has a user-friendly system to allow customization by individual users. With this broad, and growing, array of applications, the free version will meet all the needs of most users. For those who require additional protections, Avast's optional upgrades are reasonable in price and can respond effectively to most foreseeable threats. All in all, the Avast program is cost-effective and rates highly in this product review.
Overall Review Score: 9.9 out of 10
Visit Avast online, today: https://www.avast.com/
Highly recommended.
About the US Editor-in-Chief

Yan Ross, J.D., is a Cybersecurity Journalist & US Editor-in-Chief for both Cyber Security Magazine and Cyber Defense Magazine. He is an accredited author and educator and has provided editorial services for award-winning best-selling books on a variety of topics. He also serves as ICFE's Director of Special Projects, and the author of the Certified Identity Theft Risk Management Specialist ® XV CITRMS® course. As an accredited educator for over 20 years, Yan addresses risk management in the areas of identity theft, privacy, and cyber security for consumers and organizations holding sensitive personal information. You can reach him via his e-mail address at yan.ross@cyberdefensemediagroup.com