Creating A Secure Environment for Your Organization's Data Is Crucial To Building Trust With Your Clients And Conducting Good Business
by Don Wright, Marketing Manager, Kanguru Solutions
Monitoring and securing sensitive information in a controlled, secure environment can seem a difficult task for organizations amidst today's challenges of cyber security, complex remote work spaces, data breach threats, and even data loss due to employee error, but it doesn't have to be.  For security conscious organizations seeking an easy-to-implement solution, Kanguru has the best option for organizations of any size – large or small to be able to manage, monitor, and secure their data anywhere.
Long before the internet, USB technology is a long-standing means of transferring data back and forth, as well as for storing, transferring, and accessing data for business in the form of flash drives and external hard drives.  As technology advanced and online data exchange became the norm, data made its way to the internet for its convenience and ease of use with email, cloud storage and other connectivity.  But with the convenience of global online accessibility came the dilemma of how to keep sensitive data safe. With the ever-increasing reality of online threats from hackers, the rise of data breaches, viruses, harmful malware and even human error, organizations have been seeking alternative ways to secure their data that would still provide the convenience of conducting business efficiently.
Kanguru Defender® Hardware Encrypted USB Devices and Fully-Integrated Remote Management
Kanguru provides a strong, flexible solution that uses the best of both worlds; the convenience of global internet accessibility, with the security of local-based storage.  There is simply no safer way to protect data than storing data locally on USB hardware encrypted devices – away from the internet. An IT Administrator or Security Officer can deploy Kanguru Defender® Hardware Encrypted USB Drives to staff and employees containing sensitive company data with the assurance that only the user assigned to the secure USB drive with the correct password can access the data. In addition, with Kanguru Remote Management Console™, unique use cases such as legal documents, mortgage closing documents, wills, health records, or any sensitive information can be easily distributed to the intended parties in full confidence. IT Administrators can monitor and even restrict their hardware encrypted devices by location, domain, manage password strength and generate reports to enforce compliance with the company's security policies. Kanguru's hybrid approach to data security is trusted by organizations around the world to protect their most sensitive data.
Kanguru Defender Hardware Encrypted Drives offer a full range of security benefits to organizations:
Full AES/XTS 256-Bit Hardware Encryption (Built-in, Automatic)
FIPS 140-2 Certifications (certain models)
Onboard RSA-2048 Digitally-Signed Secure Firmware
Onboard AntiVirus
Write Protection With Physical Write Protect Switch
Biometric Security Option – Defender Bio-Elite30™
Fully-Integrated Remote Management By KRMC™
#1. AES XTS 256-Bit Hardware Encryption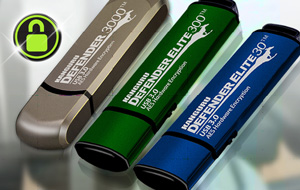 Kanguru Defender® Hardware Encrypted USB Drives use the highest (NIST) standard of encryption on all of their portable USB data storage drives to secure data, with military-grade AES XTS 256-Bit hardware encryption. This ensures that the USB flash drive, hard drive or solid state drive automatically encrypts all data written to it. There is no need for extra software or additional steps.  The encryption is built-in. The only way to access the data on the USB drive is to enter the correct password, or by fingerprint for the Kanguru Defender Biometric Fingerprint secure flash drive.
#2. FIPS 140-2 Certifications
For organizations that may be required to follow specific security industry regulations or high-level certifications, Kanguru provides a flexible line of FIPS Certified Defender® hardware encrypted drives.  Kanguru has several FIPS 140-2 Certified models to fit with industry standards and budget. The Kanguru Defender 3000™ Secure Flash Drive provides the highest level, with FIPS 140-2 Certification, Level 3, demonstrating military grade protection against brute-force, tampering or any physical access to the chip. It is also waterproof, so it could be used in the harshest of environments.
The Kanguru Defender Elite300™ offers more commercial protection as a more budget-friendly model with FIPS 140-2 Certification, Level 2. Kanguru Defender Hard Drives (HDD) and Solid State Drives (SSD) also offer FIPS 140-2 Level 2 Certification models. Kanguru also has a variety of Common Criteria Certified solutions for organizations by special request.
#3. Onboard RSA-2048 Digitally-Signed Secure Firmware
Kanguru Defender Hardware Encrypted USB Drives offer more than just certifications and military grade encryption to protect data. In 2014, researchers at a Black Hat security event demonstrated a potential vulnerability in USB technology itself. It was shown the possibility for any USB device like a web cam, mouse, printer, dvd player, thumb drive, or even a keyboard could have its firmware manipulated by a savvy hacker, and could potentially be used as an attack to introduce harmful malware into an organization's network. Kanguru USB devices prevent this type of attack up front with built-in RSA-2048 digitally-signed secure firmware. With on-board secure firmware, it is impossible for a savvy hacker to tamper with the firmware of a Kanguru Defender USB Drive to successfully attack a network. The device consistently self-checks and would simply shut down. This offers organizations an extra peace of mind with Kanguru Defender hardware encrypted USB drives making them ideal for endpoint security environments as trusted devices on a network.
#4. Onboard AntiVirus
Kanguru Defender secure USB drives also protect data from viruses and malware with on-board antivirus protection by BitDefender®. Every Defender secure USB drive comes with on-board AV and a 30-day free trial. For a nominal fee, the option to purchase a one, two, or three year subscription separately can be decided after the 30-day free trial for high-end, automatic, real-time scanning of the drive. This offers superb, up-to-date protection against viruses, malware, spyware and trojans.
#5. Write Protection With Physical Write Protect Switch or Software
Kanguru offers a physical write protect switch for its Defender Elite300™, and Defender Elite30™ models. Other Defender drives provide software for additional write protection.  This option allows the user to use the drive in "read-only" mode without writing to it, ensuring the contents of the drive cannot be overwritten. It is another great tool for preventing viruses from reading to the drive.
#6. Biometric Security Option: Fingerprint Access Hardware Encrypted Flash Drive
Kanguru has recently launched a fingerprint access encrypted flash drive called the Defender Bio-Elite30™. This innovative secure flash drive provides a quick, easy way for users to access the information on the drive with just a touch of a finger. The secure flash drive can be configured to different fingerprints, allowing or restricting certain access, and is OS Agnostic, meaning it can be used on almost any type of machine whether it is in the healthcare industry, or media/entertainment. This secure flash drive is a great alternative to bulky pinpads or keypads of other leading encrypted USB devices which could fail over time.
The safeguards of Kanguru Defender hardware encrypted USB drives provide the highest level of data protection for sensitive information, making data transfers, and data storage easy and highly secure. But Kanguru takes it even one step further, by providing an additional service for IT Managers, Administrators and Security Officers to be able to monitor, manage, and locate their Defender hardware encrypted USB drives anywhere in the world.
#7. Kanguru Remote Management Console™ For IT Administrators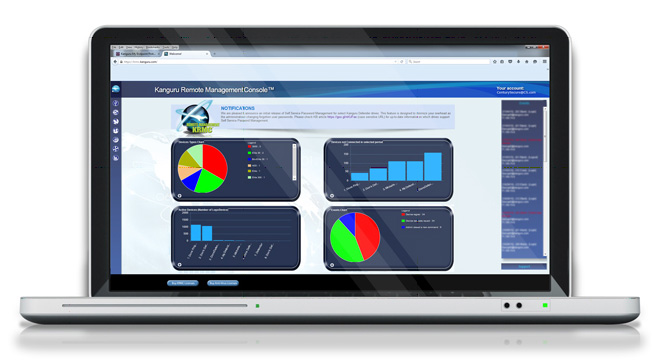 For organizations requiring an extra high-level of data security, adding Kanguru Remote Management Console™ (KRMC™) to monitor, manage, locate, and report on their Kanguru Defender Hardware Encrypted USB Devices anywhere in the world is an ideal way to ensure fully-integrated data security and compliance.  All Kanguru Defender hardware encrypted USB drives are remotely manageable.
Kanguru Remote Management Console™ is a robust, fully-integrated management system that offers a vast range of data security benefits for organizations:
Manage and Customize All of Your Secure USB Drives From One Convenient Console
Customize Security Settings for All Secure USB Drives Configured With Your Organization
Track And Manage USB Drives Worldwide
Communicate With Users; New Email Integrated Services
Disable/Delete Lost Or Stolen Devices
Set Up Online & Offline Permissions
Generate Reports
Notify Users And Roll Out Policy Updates
Schedule Password Changes
Kanguru Remote Management Console (KRMC) provides IT Administrators and Security Officers with the ability to manage all of an organization's secure Kanguru Defender hardware encrypted USB devices from one convenient cloud-based or on-premises console. No data is stored on the internet; sensitive data remains entirely contained within the encrypted USB drives themselves. The administrators do not have access to the data, but KRMC allows Administrators to monitor, manage, customize, configure, track, disable, delete and set up online/offline permissions and even communicate with the organization's Kanguru Defender encrypted drives. With several deployment options to choose from, Administrators can manage settings, create bulk provisions, and distribute the USB drives to staff and manage them.
 Three Flexible Remote Management Options
IT Administrators or Security Officers have a wide array of remote management options to choose from with Kanguru Remote Management. First, organizations can choose between three great options depending on their needs:
KRMC-Cloud
KRMC-Cloud Pro
KRMC-Enterprise
KRMC-Cloud is a convenient cloud-based service, which provides full management for one administrator. It is convenient for smaller organizations that may have only a few secure Defender drives, with one Administrator managing the security settings for the organization. KRMC-Cloud is hosted by Kanguru's enterprise-level cloud-hosting platform.
KRMC-Cloud PRO is ideal for organizations that would require multiple administrators. With KRMC-Cloud PRO, a super administrator can provide certain restrictions or permissions for sub-administrators as they see fit. This option is ideal for organizations that may need to categorize security settings under different departments, or segment a variety of security silos.
For larger organizations, KRMC-Enterprise offers a self-hosted option on the company's own server with full management capabilities. This is ideal for Enterprise organizations looking to implement full security under their own self-hosted platform.
KRMC's Custom Settings
KRMC provides a host of options for IT Administrators to manage their USB secure drives. Settings can be customized by setting password parameters or strength, connectivity settings, permissions and restrictions offline or by domain, and other configurations. Then once drives are deployed, those settings can be updated easily within the console. If there is a security issue, the administrator can use the console to communicate with the drives, and provide instructions for updating the organization's security policies.  Administrators can even change the requirements for password strength and length and require updates immediately.
If a situation came up where an employee reported a lost, or stolen secure flash drive, the Administrator can immediately disable or delete/ wipe the drive.  If a user forgets a password, there are several options for the IT Administrator to make updates, and even roll out Self Service Password Management (SSPM) so all users can reset their own passwords with a 2-factor code to their pre-registered company email.  Along with domain and offline/online permissions, this provides yet another fail-safe for organizations worried about data breach or employee error.
Kanguru Remote Management Console provides detailed reporting methods, giving Administrators a powerful way to demonstrate compliance, and ensure full data protection for the organization.
A new feature Kanguru has recently implemented is the ability for Administrators to use the new integrated email interface to communicate with users of the Defender secure USB drives.  This great new feature allows Admins to easily use their own mail server or use the one provided, to build templates that allow for easy and efficient communications with users of the Hardware Encrypted Defender Secure storage devices.  This is important to help manage user updates, offer guidance, and to assist in asset management to proactively monitor inventory of devices.
If you would like more information about integrating Kanguru Defender hardware encrypted USB drives and Kanguru Remote Management Console (KRMC) for your organization, please visit kanguru.com, call us at 1-888-KANGURU (1-888-526-4878), or email us at sales@kanguru.com.
About the Company

Don Wright is the Marketing Manager working with Kanguru for the last 8 years in Millis, MA.  Kanguru designs and manufactures high-end hardware encrypted USB solutions dedicated to helping organizations secure data. For over 25 years Kanguru has provided flexible data security and storage options for organizations around the world including military, defense, healthcare, enterprise, SMBs and commercial industries. Kanguru also provides duplicators for DVD, Blu-ray, NVMe, Hard Drive, SSD and USB storage, as well as a variety of NVMe SSD and HDD data storage options.

To speak with a sales representative, call Kanguru toll-free at 1-888-KANGURU (1-888-526-4878) or email: sales@kanguru.com.  Visit our company website at www.kanguru.com.
FAIR USE NOTICE: Under the "fair use" act, another author may make limited use of the original author's work without asking permission. Pursuant to 17 U.S. Code § 107, certain uses of copyrighted material "for purposes such as criticism, comment, news reporting, teaching (including multiple copies for classroom use), scholarship, or research, is not an infringement of copyright." As a matter of policy, fair use is based on the belief that the public is entitled to freely use portions of copyrighted materials for purposes of commentary and criticism. The fair use privilege is perhaps the most significant limitation on a copyright owner's exclusive rights. Cyber Defense Media Group is a news reporting company, reporting cyber news, events, information and much more at no charge at our website Cyber Defense Magazine. All images and reporting are done exclusively under the Fair Use of the US copyright act.