by Caoimhe McGonagle, Content Writer, Focus Training
If you've come across this page then you've been searching for ways to shop safely online during Black Friday and Cyber Monday – and rightly so! The festive season is undoubtedly the most expensive time of year, with over £1.49bn spent online during Black Friday and Cyber Monday alone, (according to online website SaleCycle).
We all know that shopping online is convenient and, for the most part, easier. For example, where else can you shop at 2 AM in the comfort of your pyjamas or make a sneaky purchase while you're supposed to be working?
Furthermore, with lockdown 2.0 stretching throughout November and (possibly) December, more festive shoppers than ever will be going online to purchase make the most of Black Friday and Cyber Monday sales. In fact, since the Coronavirus pandemic began, and social distancing measures were introduced the UK E-commerce market has seen a surge of 129% week-on-week.
However, as the demand for online shopping has increased, so have the risks! With an increasing number of fraudsters looking to steal your card details and scam you out of your money, now more than ever it is essential for everyone to shop safely online.
How to spot a Black Friday & Cyber Monday scam?
Spotting a Black Friday & Cyber Monday scam can be challenging if you are unsure of what to look out for. To shop safely online during this period, it's essential that you take the up-most care when purchasing anything.
Some of the most prominent Black Friday & Cyber Monday scams typically come in the form of "bait and switch" fraud. The intention of this particular scam is to bait customers to an online store with products or services at a low price, to only discover that these goods are in fact not available. The seller will then demonstrate a more expensive product or similar product with a higher margin in the hope that the customer will purchase it instead of facing disappointment.
Another popular scam used by fraudsters is fake ads. As practically anyone can post an advertisement online many shoppers fall victim to this one during the Black Friday & Cyber Monday season. Social media can be a breeding ground for this type of fraud and not all of the advertainments you will see will come from legitimate retailers or sellers.
As there are brand-new and advanced scams popping up constantly, it's a good idea to keep up to date with them if you are a frequent online shopper.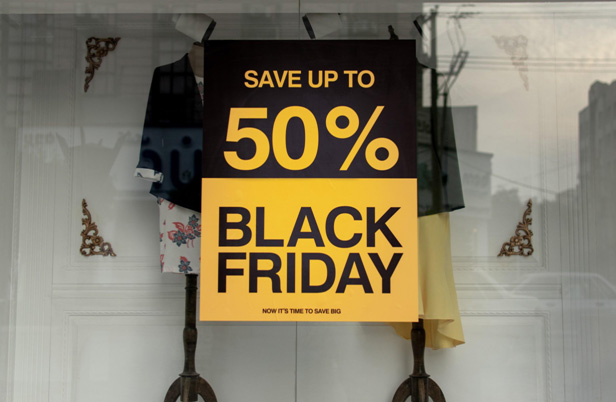 How can you shop safely online during Black Friday and Cyber Monday?
To shop safely online, it's wise to use the rule of thumb, "if it looks too good to be true, it probably is." However, there are a number of simple things you can do as a precaution.
Firstly, never enter private details on websites you don't trust. This can be anything from your date of birth, home address or even your bank card details. To ensure you shop safely online, use websites that are familiar to you. As an additional precaution always look out for the lock (SSL). Secure Sockets Layer, is an encryption-based internet security protocol that was introduced for the purpose of ensuring privacy, authentication and data integrity in internet communications. Therefore, if a website does not have one of these, never purchase goods from them.
Furthermore, some people are under the misconception that you cannot shop safely online using your mobile phone. However, this is very untrue. There's no real need to be any more nervous about shopping online on your mobile than on a computer. As long as the same precautions are taken everything will be fine. Many online retailers now have apps for their products, meaning you can now access the Black Friday & Cyber Monday sales from the comfort of your own phone.
To ensure you shop safely online it's also a good idea to only use your credit card when possible. Credit Cards come with better consumer protections against fraud and scammers won't have direct access to your bank account if you are to become compromised.
Creating Accounts With Your Favourite Sites
Creating strong passwords is another effective way to protect you and help you shop safely online. Many online retailers now have the option for you to an account with them. Doing so has many benefits, such as personal, tailored content you will enjoy and one-click purchasing (which was made famous by Amazon).
Due to the fact that these online accounts hold a lot of your personal details, it's essential that you create a strong, unique password each time. It can be tempting to use the same password across many different accounts, but doing so can leave you vulnerable to many different types of fraud. To shop safely online and keep all your passwords secure, it's a good idea to invest in a password management system.
Finally, don't let the negatives put you off doing some online shopping during Black Friday and Cyber Monday. They are great events for the retail industry, and they could also help you bag that Christmas gift you've been eyeing up at an incredible discount.
However, do take caution and remember to stick to websites that you know well and trust and never shop on a public Wifi. Furthermore, keep a close eye on all of your transactions, and take advantages of the help and advice that your bank may have to offer.
About the Author

Caoimhe McGonagle
Content Writer
Focus Training
http://www.focustraining.co.uk/
Caoimhe.mcgonagle@thrivemediagroup.co.uk
FAIR USE NOTICE: Under the "fair use" act, another author may make limited use of the original author's work without asking permission. Pursuant to 17 U.S. Code § 107, certain uses of copyrighted material "for purposes such as criticism, comment, news reporting, teaching (including multiple copies for classroom use), scholarship, or research, is not an infringement of copyright." As a matter of policy, fair use is based on the belief that the public is entitled to freely use portions of copyrighted materials for purposes of commentary and criticism. The fair use privilege is perhaps the most significant limitation on a copyright owner's exclusive rights. Cyber Defense Media Group is a news reporting company, reporting cyber news, events, information and much more at no charge at our website Cyber Defense Magazine. All images and reporting are done exclusively under the Fair Use of the US copyright act.